Did you know that most successful people spend time "daydreaming" about achieving their goals and envisioning their success?  This is a big part of their weekly rituals, if not a daily one.
We tend to scold kids for daydreaming when they should be doing something we've identified as more "constructive". Unfortunately, most of us realize only too late in life that unless you can "dream it" you can't make it a reality.
When you think about it, kids are the happiest when they live in their make-believe world because for them they're living their dreams – the "reality" they want to be in. Naturally, as adults, if we were to live in our make-believe world we'd be called "cuckoo".
Yet without "daydreaming", you wouldn't have imagination, which forms a huge part of a successful individual's toolkit.
But who can stop you if you do it in your own time and space whenever you have the chance? 🙂
Did You Know That Daydreaming Could Help You Succeed?
Now, there's a scientific reason behind this as well. Research says that geniuses take creative breaks and power naps. The act of your brain just "wandering off" or daydreaming allows the brain to refresh the neurochemicals required for concentration and productivity.  Most successful people take power naps exactly for this reason.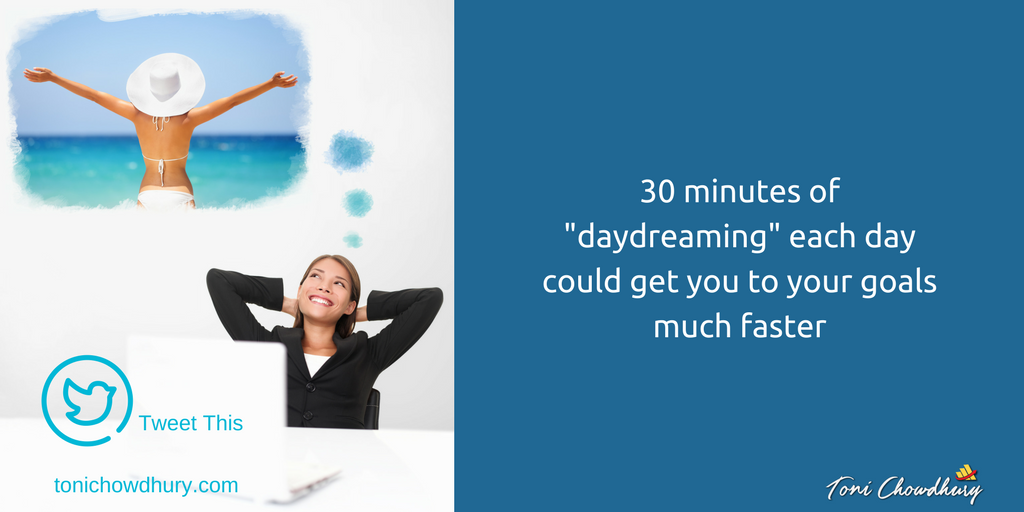 You'll experience a strange contentment and relaxation when you set aside some time each day to "daydream" about what your ideal world looks like.  This "daydreaming" primes your brain for finding opportunities that support your vision. It helps you in achieving goals that you've set out for yourself, even if they may seem impossible at first.
This is a big part of reflective thinking and a form of creative visualization that top entrepreneurs, professional athletes, actors and a host of other successful people use to achieve their goals.
How to "Daydream"
Our minds are consumed by an onslaught of information in this digital age.  No matter where we turn, we have huge amounts of data coming at us. Tune in to the radio or TV and all you hear is news that drives fear into our minds and stresses us out even further.
So, it's imperative that we find a sacred sanctuary where you can go and disconnect yourself from all of these extraneous influences – somewhere you can spend time with yourself in peace and tranquility.
This sanctuary can be a tiny corner in your own home, or even in a room inside your home. Or, it could be in a corner in a park or your backyard. It just doesn't matter, as long as it's a place where no one would mind or disturb you if you fell asleep.
Once you've designated a spot, make sure you leave your devices behind so you have no interruptions from messages or other notifications.
Get into a comfortable position – sitting or reclining – so you can focus on your thoughts and build your little dream world of your own. If you need certain props, please make sure you have them. Sometimes some aromatherapy can help you get into a relaxed mood as well. Take a few deep breaths and settle in for a 30-minute daydreaming session or a power nap. Either is known to be highly beneficial to performing at optimal speed.
Power Down to Power Up
When the brain powers down, it actually powers up the imagination and fires up the creative forces that help you get to your goals faster by awakening the genius within.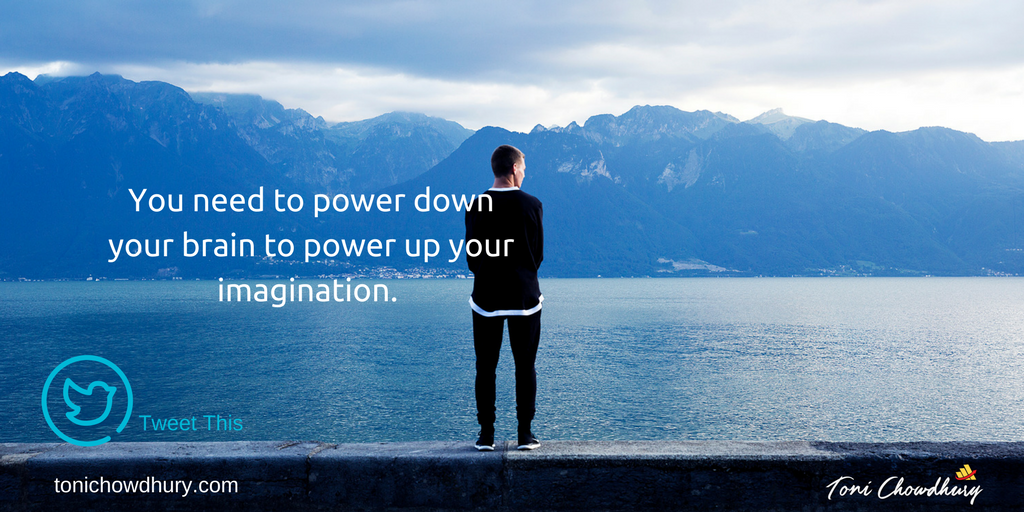 Happy Daydreaming!