I'm excited to bring you the startup success story of one of the most passionate, innovative and inspiring entrepreneurs I've met so far. Her name is Naureen Anwar and she's the Founder of the tech startup, NameShouts. Naureen has built an app that helps people pronounce names correctly, which is such an amazing concept! And in my opinion this is going to be the game changer that'll disrupt the service industry. It was so rewarding to speak with Naureen about her work and her struggles as a startup business.
A Pronunciation Tool To Bridge The Gap
A cool fact is that Naureen Anwar is an ex-colleague. I was really surprised to learn that she had quit her job with an amazing hi-tech company and struck off to create one of her own. And she did this to scratch her own itch of not finding help when she needed it. 
She described to me how she had just graduated from University and got a really great job as a developer. The first year was very interesting as she was learning a lot about a field she was really passionate about.
She mentioned that while on the job, she had to call up a colleague in another country and she had spent a lot of time online researching how to pronounce the unfamiliar name. But she didn't find any tool that would help her do that.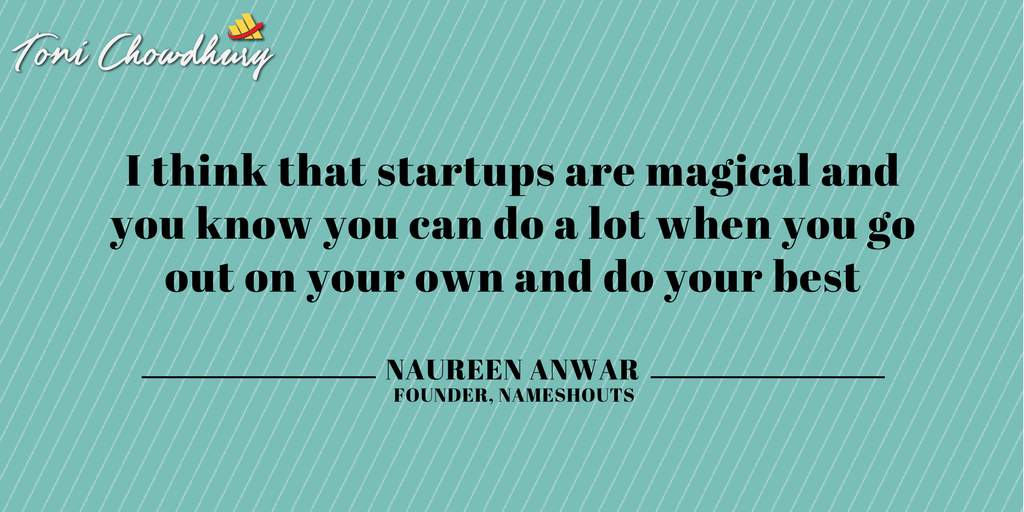 The Origins of NameShouts, A Tech Startup Success Story 
Google didn't actually have any pronunciation tools which she found really surprising. This gave her the idea of starting up a project on the side trying to build a tool that might help with pronouncing names. She reasoned that if she had a need for it, maybe other people might also find it beneficial.
So she started developing an app on the side with a friend. Like a true startup, they would both get home everyday after work and start coding to build the app. 
Probably One of the Best Startup Business Ideas
They initially built a minimum viable product and started promoting it on Twitter. Within three months, the LA Times picked up the story and wrote a huge article about it. They were pleasantly surprised because they hadn't really gone out there and run any real promotions.
This helped them realize the possibility of this idea having some merit; they felt that it could actually go somewhere.  For Naureen, that was the beginning of the journey to becoming an entrepreneur. 
People can find it really challenging to get the pronunciation of foreign names right. So NameShouts came up with a FREE app for everyone and an API that businesses could integrate into their CRM systems for pronouncing names.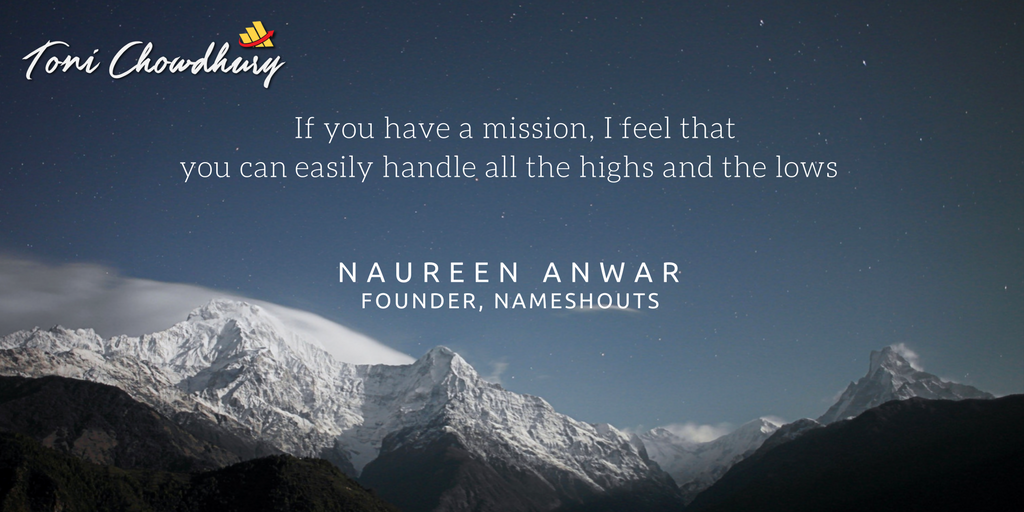 NameShouts In Swedish School Helps Refugee Students
There has been a large influx of refugees from a lot of the war-torn countries in recent days. In Sweden, every school has a psychologist who takes care of these kids who are often traumatized by their experiences and circumstances.
Therefore, it's important for these primary care providers to get these kids' names right. This helps with connecting with them and also helps the kids to open up to the nurses and psychologists.
During our conversation, Naureen told me how a Swedish school started using NameShouts to create a safer and more comforting environment for these kids.
I found this to be a very beautiful use of the NameShouts product! Imagine a world where you can connect to people across cultures, and languages by first getting the names right!
Please watch the startup success story video to get the rest of the details of what NameShouts is doing and the message that Naureen has to convey to everyone.
Startup Success Story of NameShouts Was Inspired By Tim Ferris's 4-Hour Workweek
There are a lot of success stories of entrepreneurs that inspire other entrepreneurs. It was the same case with Naureen. In the video, she discusses how Tim Ferris's bestseller book, The 4-Hour Workweek, was a huge inspiration for her.
Conclusion
Like every startup entrepreneur, you need to find a project that addresses one of your own frustrations or pain points. The reason is that if you felt the need for a product or service, someone else might have felt it too. And sometimes you just have to build something and release it to the market to test it out. Just like Naureen did with her name pronunciation app.
When the media started picking up stories on her product, she knew that she was on to something. She is extremely passionate about what she's doing for the greater good of everyone. We can only wish her all the best in her endeavours and share her work with the rest of the world.
If you want to read about other inspiring success stories of entrepreneurs, check them out on my business blog.
success story of an entrepreneur