The Woman Behind Spotyguide – A Tourist's Guide to Local Experiences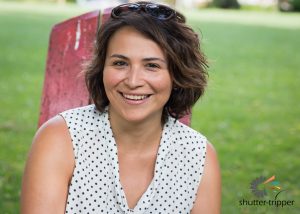 I met Laura Oliva during a recent photo shoot and I was very intrigued by what her Montreal startup business Spotyguide is all about. She hires local guides or activity providers who cater to tourists wanting a local experience, be it off-the-beaten-track city tours, local activities, restaurants or such likes. I thought sharing this information might be very useful to a lot of people lookingfor these services.  Even local Montrealers playing tourist on a day off could try this out as you can book activities and tours from their website. And if you're some kind of a service provider or someone looking for a little extra fun and cash with your extensive knowledge about your beloved city, why not register yourself with Spotyguide?
I wanted to ask Laura how she started up and what her inspirations were.  We spent hours chatting over coffee (or was it a chilled smoothie) and thought I should get her story out to everyone.  She's smart, hardworking, and such an amazingly warm person!
Disclaimer: I'm not playing journalist, but my intense interest in business helped open up new avenues of meeting people and doing more to give back to the community. Wish me luck in my new project! 🙂
A Quick Conversation with Laura Oliva
Toni
: I'm very inspired by people that have projects that are bigger than themselves. You're one of those people. I would love to know about your work as a Montreal startup business and what your mission is.
Laura
: My job is to manage different projects from A-Z.  Most of them related to IT platforms. My mission is to give a 360 vision of  ideas and create them !!
Toni: Please tell me a little bit about what made you launch your Montreal startup business.
Laura
: I have always coordinated and managed projects so I have strong leadership skills. When my last job was cut, I decided to push myself and take the risk to start a business! 🙂
Toni: I'm very eager to hear about where you started. What were your challenges and did you have any fears?
Laura
: As a startup company, I still have a lot of challenges everyday (budget, providers, people, client relationships) and I'm always looking at finding the right people and customers!!
Toni: How did you overcome your fears and challenges?
Laura
: First, I think that everyday we learn something new, so I'm trying to improve everyday and I love self-motivation books, so those help me as well.
Toni: How about your support system? Since you have a young family, how do you manage to get things done?
Laura
: Things are not easy at all but when do you have no choice, you have to push them to happen and my little family knows that; so it is important for all of us to be on the same wavelength!
Toni: A lot of people would love to be where you are today but are probably held back by fears and uncertainties of their own. Do you have a few words of advice and encouragement for them?
Laura
: Yes, don't give up, if you have a dream work for it (Miracles don't exist); just follow what you want and the most important thing is to know what exactly you want!! 🙂
Toni: What are your future plans and is there something that could help you expand your business?
Laura
: Yes, I would like to grow my network 🙂 and find the right people – those on the same wavelength as I am! 🙂
Toni: Where can people find you in case they're interested in finding out more or want to just get in touch with you?
Laura
: I'm reachable at : 
laura@spotyguide.com
. I'd love for anyone to reach out to me for more information.
The Spotyguide website is currently under constructions as Laura's busy putting the finishing touches to it. I'll post an update as soon as it goes live.